HIGH QUALITY MASSAGES
BY HIGHLY SKILLED AND EXPERIENCED THERAPISTS
GENERAL ADVICE
When taking massage with us you get to change (except for the head- shoulder massage) into soft massage robes that we provide at DaiKai, and you receive a new pair of brocade slippers. You can take the slipperS home with you as a souvenir afterwards. You may want to go to the toilet before the massage begins.
We recommend that you avoid drinking alcohol in advance to get the best effect of the massage. After the massage you will be served a cup of green tea and you can help yourself to water and fruit in our Relax-room.
Please note that we want the reteat area to be silent except for the low background music. Therefore please turn off your mobile phone before going into our retreat, and inside please speak in a low voice to avoid disturbing others. This also applies in the Relax-room after the massage.
If you have any particular questions or matters we must take into account (illness, pregnancy, injury) please inform the receptionist, preferably already when you book your massage.
If you have injuries or illnesses and are in doubt whether you should take a massage, please consult with your doctor before coming to us. We are not a treatment center for already existing injuries or illnesses, but focus on preventive health, relaxing, anti-stress and wellness massage.
All our massages help to relieve tight muscles, balance the tensions between muscles and connective tissue, improve the main types of circulation in the body and provide signals to the brain about how the different parts of the body are doing.
HOW DEEP MASSAGE SHOULD YOU HAVE?
The first challenge when it comes to finding which massage pressure that is right for you is to have a common language about it. Namikoshi Shiatsu in Japan has defined the following four levels of pressure
Low pressure
Just a little more than touch, suitable for children, the elderly and those who are particularly sensitive to touch.
Light pressure
Th therapist presses lightly, carefully and slowly. Light pressure suits sensitive people who normally don't find it painful to have pressure applied to them.
Moderate pressure
For those who feel comfortable being pressed. Although the pressure may feel a bit uncomfortable at first, the feeling will gradually become more comfortable as the muscles relax. This is the ideal pressure for most.
Strong pressure
The pressure is gradually increased while the therapist concentrates power in a smaller area and adds weight. DaiKai's therapists always use the first few minutes to assess how much pressure generally is right for you, and so are starting slightly softer and increases the pressure gradually to that level. They ask at times "Is the pressure OK?" and you get the opportunity to express desire for more or less pressure. Suffice it to say anytime "Softer please" or "Harder please". Remember that it is often better to get a deep massage using moderate pressure over a little longer time than strong pressure over less time. And it can vary how much pressure or deep massage you want in different periods.
Either way, the massage shall always feel comfortable, do not ask for pressure that feels painful. Enjoy yourself!
MASSAGE TYPE
OUR CLASSICAL massages
For pampering, relaxation, anti stress and improved circulation. An opportunity to know how the body is doing, and get back the feeling of tranquility that you almost forget in everyday life.
| | | |
| --- | --- | --- |
| Chinese Tui Na | 60, 90, 120 | 1250/1875/2500 |
| Japansk Shiatsu | 60, 90, 120 | 1250/1875/2500 |
| Classic oil massage - Western style | 60, 90, 120 | 1250/1875/2500 |
| Aroma oil massage - Chinese style | 60, 90, 120 | 1250/1875/2500 |
| Facial massage | 60, 90 | 1250/1875 |
| Chinese foot massage w / shoulder * | 60, 90 | 1250/1875 |
| Head-neck-shoulder massage * | 30, 60 | 700/1250 |
| Chi-massage, abdominal ** | 30, 60 | 700/1250 |
| Prenatal massage | 60, 90 | 1250/1875 |
| Baby massage | 60, 90 | 1250/1875 |
| Two hours customized massage | 120 | 2500 |
EXCLUSIVE MASSAGE COURSE (FOR 2 PERSONS) 360 minutes 1585 kr/person
Sitting in a deep recliner armchair, suitable for pregnant women. Facial massage can also be performed sitting. * Only in combination with one of our other massages.
FEATURED PACKAGES
For birthdays, anniversaries, rewards, something to celebrate or a little everyday luxury It is possible to put together good combinations of all our massage types. Here we have compiled some recommendations of massages that we think go well together.
| | | |
| --- | --- | --- |
| East meets West | 60, 90 | 1250/1875 |
| Body Massage ** & Feet | 120 | 2500 |
| Face Massage & Foot | 120 | 2500 |
| Duet Tui Na Duet | 60 | 2500 |
| Oilmassage | 60 | 2500 |
| Duet Aroma Oil Massage | 60 | 2500 |
| Duet Foot & Head / neck / shoulder | 60 | 2500 |
** Choose among Chinese Tui Na, Japanese Shiatsu or aroma oil massage / classical oil massage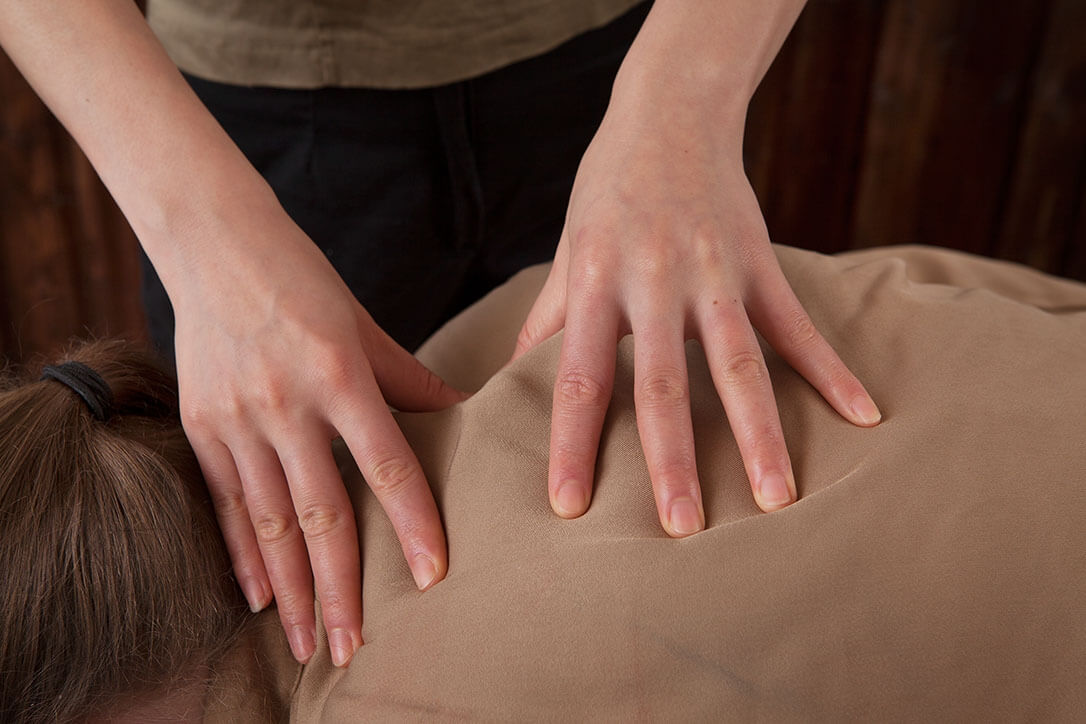 CHINESE TUI NA
Chinese Tui Na massage is a fast and rhythmic full body massage that combines massage and acupressure techniques ranging from light stroking to deep work in the tissues. The massage is performed while you are lying on a massage table wearing a comfortable and soft pyjamas-like outfit, specially designed for this purpose.
Tui Na gives you a deep relaxation followed by renewed energy.Our Chinese Tui Na massage follows traditional Chinese medical theory of the flow of Qi (energy) through the meridians (energy channels). Using a variety of massage grips and pressure on soft tissue (muscles and tendons) of the body. Acupressure techniques along the meridians and manipulations are used with the result that you get an increased flow through the blood and lymphatic system, which helps the body rejuvenate and heal itself.
Tui Na is probably the oldest known and the massage type which has been received by most people in the world.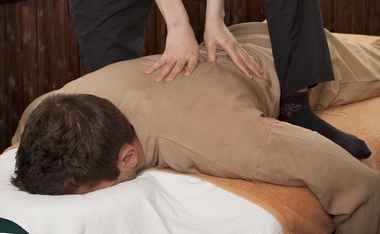 JAPANESE SHIATSU
Japanese Shiatsu is a slow, deep and soothing body massage given in a traditionaal Japanese room on a tatami-mat floor or on a regular massage table. The therapist works extensively on each of the different shiatsu-points of the body using either the fingertips, especially thumbs, elbows or the whole hand.
The massage is given through a soft, comfortable outfit that is specifically designed so that the therapist can apply pressure precisely on specific points on the body. Shiatsupoints are called "Tsubo" in Japanese, and have also been proven by modern scientific methods to be important points in the body.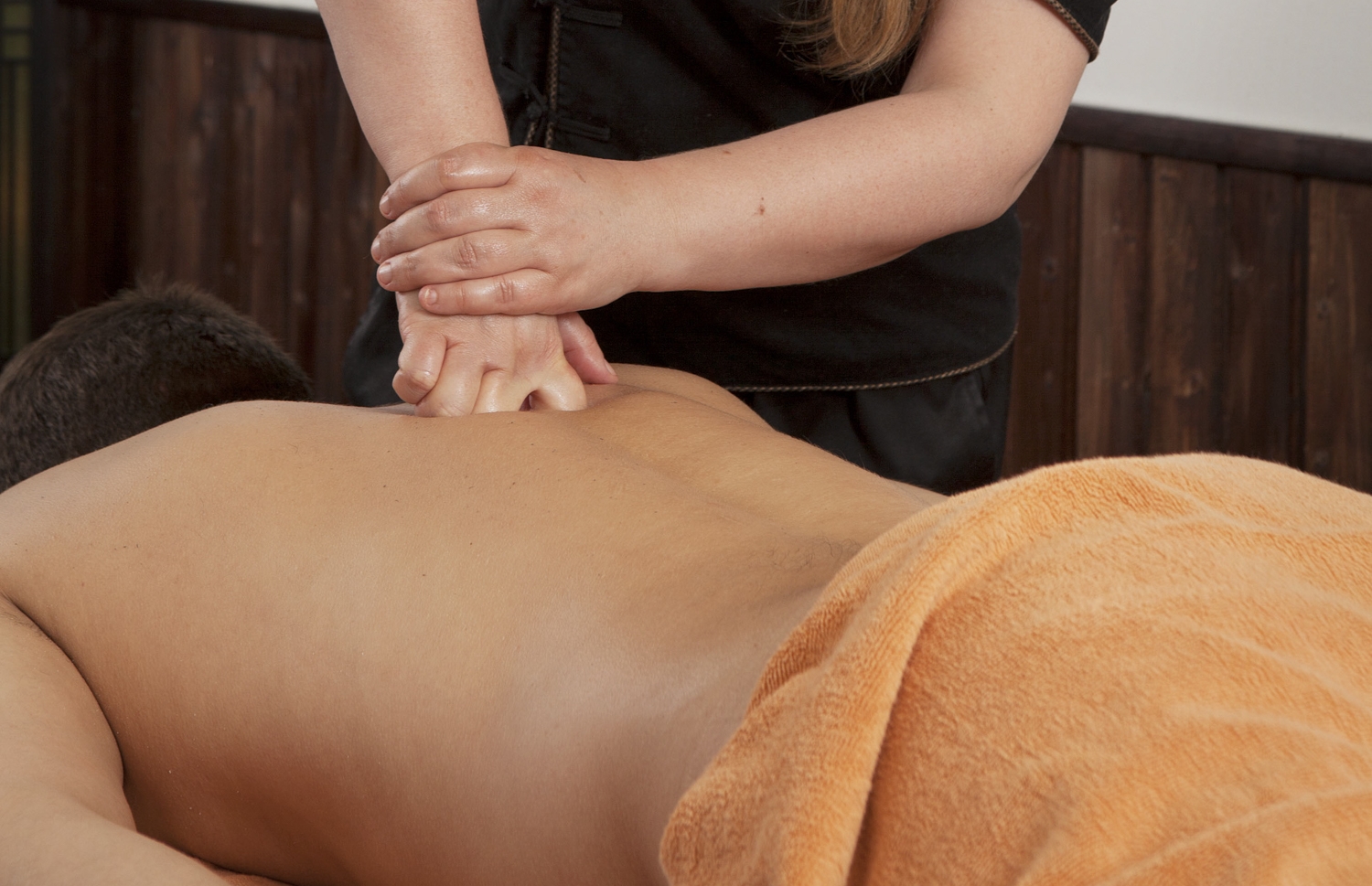 OIL MASSAGES
Our oil massages are performed with a pure base oil (e.g. grapeseed or sweet almond oil) with a few drops of fragrant aromatic oil. You can choose how deep massage you want, ranging from a very light massage on the skin to a deep tissue massage.
At the reception desk you get to choose between five different aroma oils which are said to have different effects on the body ( relaxing / invigorating). These oils are partially absorbed into the skin, and after the massage the therapist uses a warm, damp towel to wash away remaining oil. The essential oils you can choose from are rose, neroli, lavender, jasmine, chamomile, bergamot and cinnamon.
For the prenatal massages we use pure base oil without any essential oil added.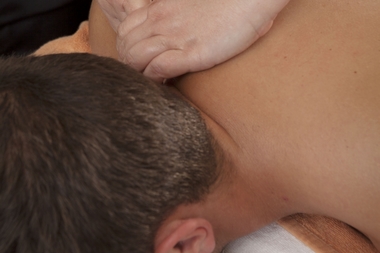 AROMA OIL MASSAGE - CHINESE STYLE
Our aroma oil massage is a relatively fast and rhythmic full body massage with oil that combines massage and acupressure techniques from traditional Chinese massage and varies between light stroking and deep work in the tissues. Much attention at the head, shoulders and back.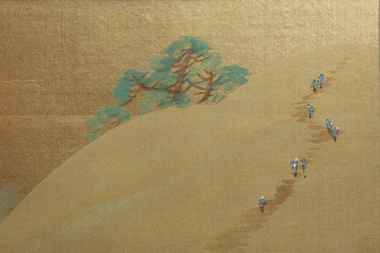 CHI MASSAGE
A soft, quiet and relatively deep massage based on Chi Nei Tsang, recommended as an addition to one of our other massages when you know that you have tension or will improve circulation in the abdominal region.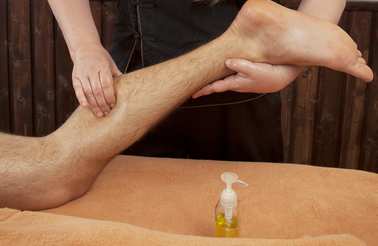 Classic oil massage - Western / Swedish style
A slow full body massage with varied long quiet, smooth grip, including light stroking, deep kneading, tapping and friction. Much attention at the back and legs.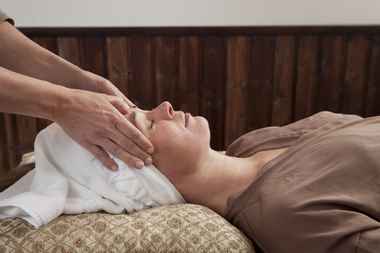 FACIAL MASSAGE
Asian inspired facial massage that begins with makeup removal and cleaning of the skin, followed by careful pressure on the shiatsu-points to stretch the many small muscles of the face. In addition, the skin is exfoliated and treated with a good moisturizing face mask and you get massage of arms and shoulders or neck while the mask works. The skincare products are from Germaine de Capuccini and can also be purchased at the reception.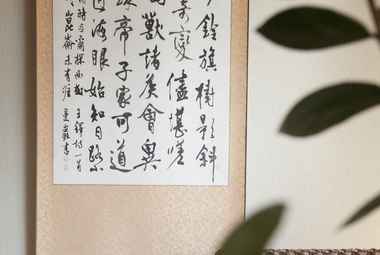 EAST MEETS WEST
"East meets West" includes techniques from Chinese Tui Na and from Western style oil massage. It starts with an energetic Chinese Tui Na massage including acupressure points and a lot of focus on the back and shoulders, and then turns to a slow, soft aroma oil massage for the muscles and lymphatic system. The Aroma oil massage with warm oil starts at the feet and covers the whole body with calm, relaxing strokes.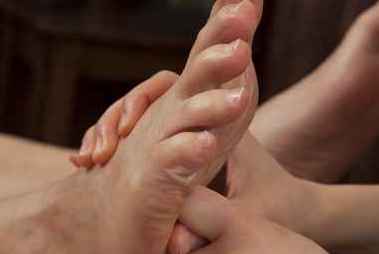 Chinese foot massage / reflexology
Our Chinese foot massage begins with a soothing, warm foot bath with herbal tea while sitting in one of our comfortable massage chairs in pleasant surroundings by candlelight, flowing water and soothing oriental-inspired music. While your feet soak you receive 15 minutes massage of head, neck and shoulders. Thereafter, with the chair leaning way back in the near horizontal position the therapist concentrates on applying pressure under your foot by a special program that has traditionally been intended to stimulate each of the body's internal organs.
Finally your legs get massaged up to the knees. The treatment finishes with a gentle foot scrub followed by a second washing of feet.
Reflexology is often associated with the theory that the body's organs are associated with specific zones underfoot via so-called energy channels.
Pressing these zones will then cause the body's energy balance is restored. Modern science has yet to confirm or deny these theories. It is in any case not only your feet which become soft and relaxed, but also the rest of your body feels refreshed and it is lovely to stroll afterwards.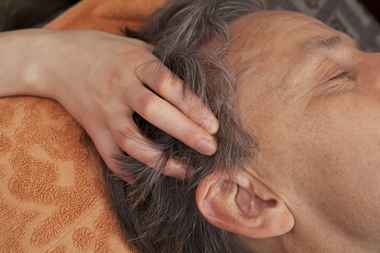 HEAD AND SHOULDER MASSAGE
The head-shoulder massage can either be 30 minutes in a comfortable recliner chair or 60 minutes on a massage bed. The therapist uses about half of the time on the shoulders, neck and upper part of the back, a little less time on the head and finishes with a short massage of the arms.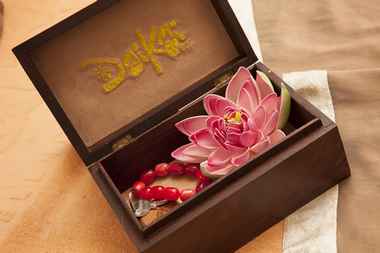 PRENATAL MASSAGE
All our massages are considered safe for pregnant women as long as the therapists are aware of the pregnancy and take certain precautions.
We have adapted our classical oilmassages (without essential oils, just to be on the safe side) so that with the aid of special cushions for pregnant women it can be received in a comfortable position (mostly lying on the side) with special focus on the needs of a pregnant woman.
Our head-neck-shoulder massage, foot massage or facial massage, all performed in comfortable recliner chairs, are also well suited for pregnant women.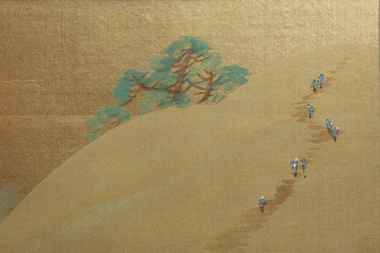 BABY MASSAGE
One of our instructors explains the principles of baby massage and starts by showing how the mother can massage her baby. Afterwards the mother receives a massage for the time remaining, while the baby can lie in its pram or on her mother's lap.
EKSKLUSIVT MASSASJEKURS (FOR 2 PERSONER)
This is a special experice which is well worth trying. Time for each other, in a beautiful suite, all by yourselves. A top-qualified instructor adapts the training to exactly what you want or need.
Set aside 3 hours for learning basic "at home massage" and recive a massage yourselves at the same time.One of our instructors talks with you in order to determine your needs and gives you an introduction to relevant massage principles followed by demonstration and instruction to each of you in turn. You then practice on each other for about half an hour each and at the end the instructor returns and serves you tea and fruit and can answer any questions that have come up during the practice session. This course can be booked in the same way that you book one of our massages, and you can book on short notice when convenient to you.
TWO HOURS CUSTOMIZED MASSAGE
Explain to the therapist what you need and get a unique consecutive two-hour massage with selected elements from all our massage types in a holistic combination optimally adapted for your needs.
You can agree with the therapist before your massage begins how deep and how much time you want for each part of the body - face, head, neck, shoulders, back, arms, hands, abdomen, hips, legs, feet - or you can also just explain what you generally want to accomplish and leave the therapist to suggest the best composition that is just right for you.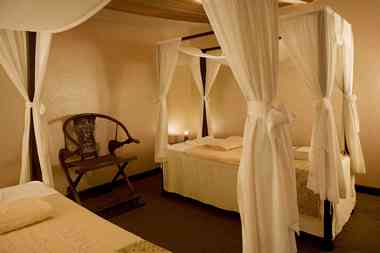 ABOUT OUR SUITES
For a more private, exclusive package or treatment, we also have two elegant suites (kr 500 extra). The suites have a private Relax-area adjacent to the massage room where you are served tea and fruit after your massage.